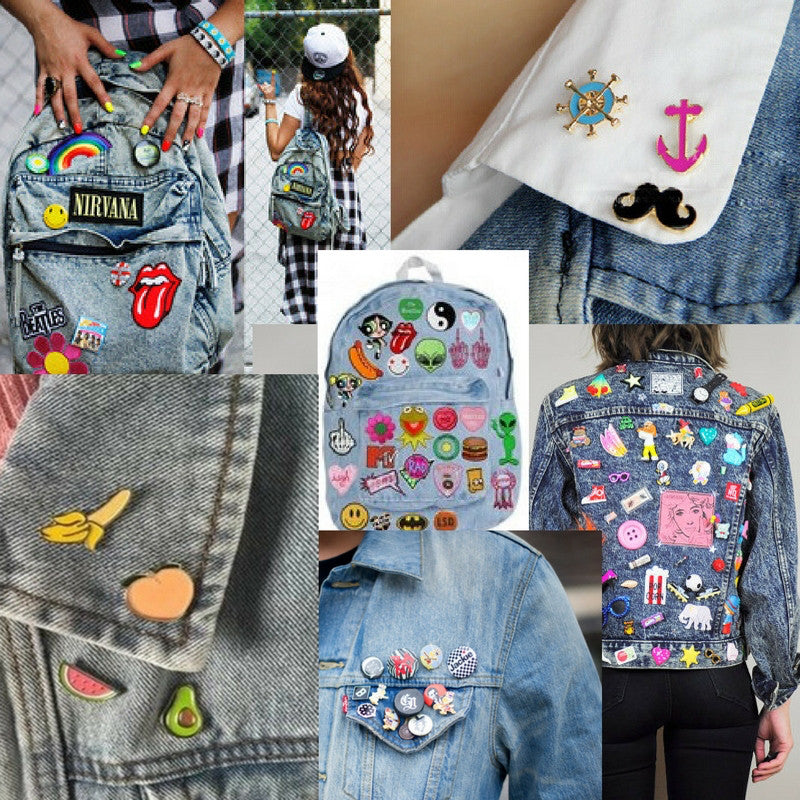 Enamel Pins - They're baaaaaaack!!!
If you weren't fashionably lucky enough to grow up in the 1980's, then you've at least been able to vicariously re-live that amazing decade in style via your recent wardrobe.  Whether it's been leggings, neon sunglasses, backpacks or denim jackets, the 80's has been strongly dictating the current "cool-o-meter" in the fashion world, and THIS is no exception...
From tiny little donuts and starbucks coffee cups to emojis and your #currentmood, enamel pins are back and better than ever! These little pins for your wardrobe and pins for your accessories are the oh-so-trendy way to express your individuality.
How to wear enamel pins: Wondering how to style enamel pins? Go big, or go small, there's no wrong way to do it! Wear these tiny stories as backpack pins, shirt pins and collar pins, lapel pins, denim jacket pins, bomber jacket pins and anywhere else! You can wear just one in a collar for an unexpected pop of fun or stack a bunch on a plain-ol' t-shirt. Put one like a patch on your jean pockets or style up to 10 on a purse or backpack. And the best part - it's commitment free, just like all your right swipes on Bumble ;) Not feeling one anymore? Simply remove it or switch it to another outfit!  
It doesn't matter HOW you wear them - as long as you WEAR them, your style-meter will rise big time among your friends.