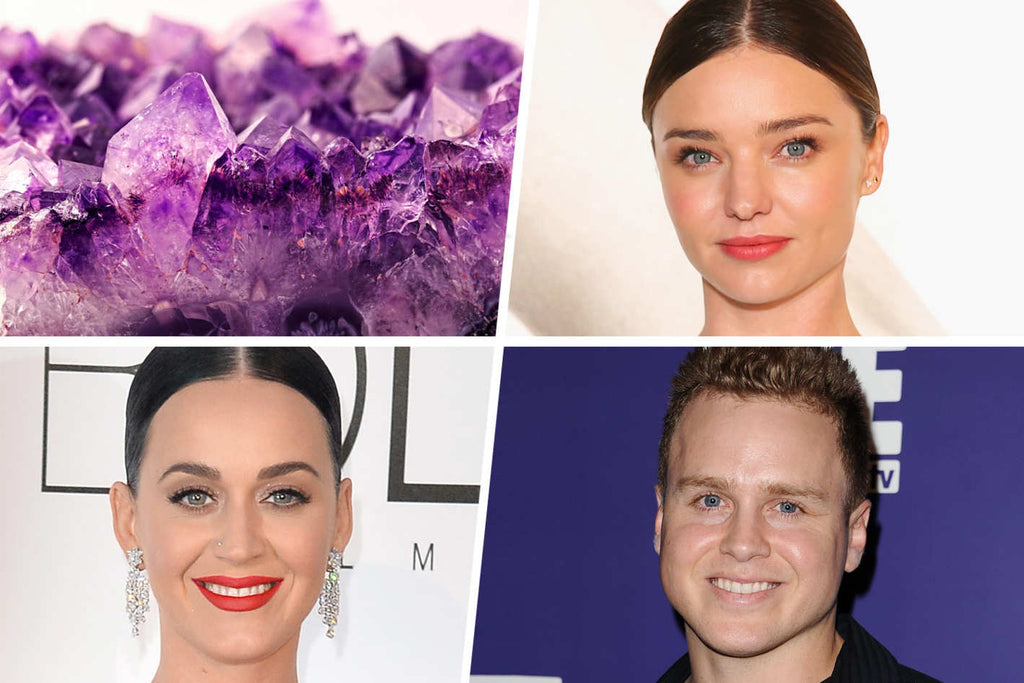 If you're a Yogi or Fashionista, you know that crystals are a top fashion trend and top yoga trend - then you probably have also heard of these Zen Crystal Rings (Also known as Yoga Rings, Healing Rings, or Zen Rings).  But did you know that you're not alone in your obsession with crystals?  Big Little Lies' star Shailene Woodley and Adele love crystals, Lucy Hale is a crystal fan, Miranda Kerr likes crystals and so does Heidi Montag.
Want to know more about their obsession?  Here are 24 celebrities who are crushing on crystals:
Adele
"I was so nervous about my comeback show and I was panicking. I was out of practice and I was busy being a Mum. But it was one of the best shows I've ever done and I had these bloody crystals in my hand … Then the Grammys came and I lost my fucking crystals! I had a gig two or three days before them and I think I left them at this venue. It turned out to be the worst, most disastrous performance that I have ever done. Well, apart from one really early on when I was doing a gig in Angel and I got so drunk I fell off my chair. But I got some new crystals now and everything's been going well." —The Sun, March 2016
Victoria Beckham
"I'm a very spiritual person. I travel with my crystals. I've got all different colors. It's just something that I'm into. I am quite a superstitious person. I don't walk under a ladder. If I see a magpie, I salute." —Allure, March 2011
David Beckham
"We've both been into crystals since moving to L.A." —Daily Star, December 2010
Heidi Pratt
"I was not in the right mind frame to make that decision [for plastic surgery]. I was in so much pain. I was literally crying every day … I felt the crystals were helping. Whether it was just metaphorically, or just a placebo effect, [they helped]. Spencer was like, 'Wow! These crystals are really working' too. We were just not at a good place at the end of The Hills." —Vice, February 2016
Spencer Pratt
"I am so addicted to crystals, it's like a sickness. I've spent $500,000 on crystals this year. I checked my bank account last night, and I have $203 left …[On Valentine's Day] we hung out with our puppies and cuddled with our crystal. It's supposed to bring love. There's a whole science to this — I'm not crazy." —Life and Style, February 2010

Six years later:
"I spent thousands of dollars having a wizard coach. Being a wizard, it's pretty heavy. Going around with a [rutilated quartz] wand, and people start looking at you weird when you're wanding your coffee in the morning and whatever … Now I just love to look at them, because I've moved past them having powers. If they had powers, I would be Kim Kardashian right now and not Spencer." —Entertainment Weekly, May 2016
Katy Perry
"I don't stay single for long. I carry a lot of rose quartz, which attracts the male. Maybe I need to calm it down with amethyst." —Cosmopolitan, July 2014
Kate Hudson
What's on your nightstand?
"A crystal bowl filled with rose-quartz heart crystals that my mom gave me for Mother's Day one year." —Marie Claire, June 2013
Miranda Kerr
"You may have read in some press articles that when I'm asked what's in my handbag … I often mention a crystal wand or a Rose Quartz crystal. My crystal wand is incredibly special to me, and is one of my most cherished items. It's made of Clear Quartz and is studded with Rose Quartz. Clear Quartz is a great stone for gathering, directing and transmitting energy … it can also transform negative energy into positive energy, and Rose Quartz is a wonderful stone to heal and protect the heart, balance emotions, release stress and tension, and encourage love and self-esteem. Crystals can be used in many different methods of healing. In addition to using on a specific area of the body, or on Chakras points to locate blockages to cleanse and heal them, they can also be used in massage. Massaging the body with a crystal helps to release tension from the body, while at the same time the stone's healing energy is transferred to the body. I hold my crystal during meditation, prayer, deep belly breathing, and use it to infuse my Luxurious Rosehip Body Oil with positive vibrations prior to a massage. I also sleep with it nearby so I'm constantly receiving its special healing energies." —KORA Organics, February 2015
Bethany Cosentino 
"I'm super into astrology and when I turned 27 I started doing a lot of self-exploration, finding out who I am and that kind of stuff. My mom is really New Age. I carry a pouch of crystals with me everywhere I go. I'm super into that kind of stuff. I hate flying, so I'll be on a plane and I'll be that weirdo in the corner with these in my hand. One is for anxiety and depression, one is Moonstone which helps with clarity, this other one. They're basically all to help center and balance you." —Vice, July 2015
Marina Abramović
"I've never put crystals in my cleavage, but OK. I have put crystals near my head and asked, 'You know what time it is?'" —Vice, December 2012
Crystal Renn
What's your biggest luxury or indulgence?
"Going to really exotic and strange locations. I absolutely believe that when one goes on vacation, it should be pure decadence … If I were to say a second thing, then really special crystals in different shapes that can't be found easily. I just found this concave amethyst sphere and the way that it grew and cracked is so beautiful. I've been collecting crystals for many, many years for healing purposes and decoration and I think this might be the best I've found. I guess since my name is Crystal, I have no choice." —Harper's Bazaar, January 2016
Naomi Campbell
"I think they bring great energy … You should see how many I travel with." —People, February 2007
Azalea Lee, owner of Place 8 Healing
"I tell people when they come into my space to walk around and see which crystals you love, and which crystals repulse you. Those are the two you need most. The one you love is the one you're focused on, the one that pertains to your conscious goals. The one you hate — that addresses the thing in your life you refuse to acknowledge, or you just don't want to deal with. Get both." —Elle, August 2015
Anne Hathaway
"[Los Angeles] was never really my thing. I'd been out there for 14 years and never really felt anything for it and then we started to make some awesome friendships. Suddenly I realised I was hiking every day. [Laughs] And having a lot of conversations about crystals, which made me really happy. But I'm happiest when I can travel and spend time at home." —Glamour Magazine UK, October 2015
Kiersey Clemons
"Two years ago, while walking in Williamsburg, Brooklyn, I saw a street vendor selling crystals. He talked me into getting a rose-quartz necklace, and I carried it around everywhere … One time, I really wanted this huge teal-colored crystal. I didn't even know what the stone's properties were, I was just like, That's beautiful; I bet it does great shit; I want it. I was bidding up to $400! Then a friend came over, and I forgot about bidding and lost. That's God telling me, 'You need to calm the fuck down. You don't need that — you don't even know what that does.' … I understand why people believe it's a placebo effect — there's no physical evidence that crystals heal you — but, to me, that makes it better. That I can trick myself into thinking I'm healing myself — that makes me feel like I'm a goddess." —Marie Claire, May 2016
Lucy Hale
"I practice reiki with this woman. I don't know if you know what reiki is, but it's like energy work. And so I never in a million years thought I would be that person that would be into all of that stuff, but I completely am. I think it's amazing and that it truly works. Anyway, she was going to…a crystal fair that they have, and she picked up these gorgeous amethyst stones for my house. Basically, amethyst is the most positive stone there is, so if you put them in your house, they're supposed to generate good energy. It's very new for me, and I'm still learning a lot about it." —People, August 2016
Amanda Chantal Bacon, owner of Moon Juice
"Our rose quartz was stolen from the Silverlake shop. This loving rock has given so much to an entire community and has much more to share. To whomever took her out the door, you do not want the energy of a stolen crystal, please trust me!" —Moon Juice Instagram, July 2016
Father John Misty
"There's been, understandably, a not insignificant outcry regarding the alleged 'theft' of the rose Quartz crystal from the Echo Park Moon Juice™, pictured above. I am here to claim responsibility, though I do not condone the rhetoric employed in Moon Juice's post. To claim that 'something has been "stolen"' is itself a tacit endorsement of the capitalist values that blended superfoods and locally sourced produce stands, ironically, in direct opposition to." —his Instagram, July 2016
Andrew Keegan
On the water crystals used at a Sunday service for his new religion, Full Circle:
"We're very, very aware of the shift that's happening in the mind and the heart, and everybody is on that love agenda. We're very much scientifically, spiritually, and emotionally aware of how it works, meaning that there's power in the crystals, there's power in our hearts, there's an alignment, there's a resonance … and it transfers through water." —Vice, August 2014
Nat Wolff
On Shailene Woodley's love for crystals:
"I've learned a lot about a lot of things from her. She convinced Ansel [Elgort] and me not to wear deodorant. She somehow has that magical girl thing where you don't ever smell bad. She had special crystals that make her smell good. Ansel and I, after two days — it was disgusting. We smelled like wild animals. I soon went back to the deodorant that's going to give me cancer." —Elle, April 2015
Brandi Glanville

"Thank God there's moon issues because I've been very emotional today and I had zero reason why until now! Charge your crystals." —her Twitter, September 2015
Patrick Swayze
"I absolutely believe in crystals. They are a major part of my life. I really think I'm on a journey now, spiritually and careerwise. [He holds up a thin opalescent rock.] This is my magic wand. And this one … tiny, smooth, black, this has positive properties … I have tons of these things. Museum quality. I don't know if this stuff works. But I tell ya, I believe that things you believe in can come true." —Philadelphia Inquirer, April 1992
Shirley MacLaine
"The first time someone gave me a natural quartz crystal I laid it in the palm of my hand to examine it. I was fascinated. Not only was it beautiful: it seemed to have dimensions within dimensions, reflections within reflections. I held it up to the sun and allowed myself to sort of go inside it…In a darkened room I placed the crystal given to me at eye level on a high table. Then I lit a candle behind it and sat down next to it. I gazed into the crystal and projected positive and loving thought forms into it. I had the feeling that they reverberated back to me. It was very pleasant. Then I tried negative and angry thought forms. I had the feeling that that is what I got back. I became uncomfortable. I made my choice. For an hour I sat in front of my crystal with the candle behind it and just gazed into it with thoughts that were as pleasant as I could conjure up. It was a wonderful evening. And I slept better than I had in weeks." —Going Within, 1989
Josie Maran
On what's in her bag:
"Healing crystal earrings. I enjoy healing stones because they help focus, transfer, and store energy associated with environmental changes before it enters our auras." —Racked, April 2016
Andy Warhol
"I'm starting to think that crystals don't work. Because look what's happened lately when they're supposed to be protecting me — my rug has cancer from the moths, I stepped on a beautiful old plastic ring and crushed it, and I was assaulted at the book signing. But I've got to believe in something, so I'll continue with the crystals. Because things could always be worse." —The Andy Warhol Diaries, November, 1985 entry
(List of celebrities above from TheCut.com) 
Want to get ZEN'ed?  Then get your crystal ring here: https://www.myjewelcandy.com/collections/rings/products/zen-rings